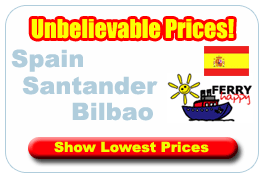 P&O Ferries to Bilbao
For a cheap ferry to Bilbao why not travel with P&O Ferries from Portsmouth for the ultimate ferry journey. With P&O ferries you get superb onboard facilities plus great entertainment.P&O Ferries depart from Portsmouth every three days for most of the year and offer the most convenient cruise style crossings to Spain for car and passenger. Or instead of taking the Ferry to Bilbao why not travel from Plymouth to Santander with Britanny Ferries?

Sailing to Bilbao with P&O Ferries is so easy - whether you're camping with your family, surfing with your mates, skiing in the Pyrenees or staying at your holiday home, you can pack as much as you can fit in your car! Our overnight cruise style crossings mean you can enjoy a whole lot more leg room than other modes of transport! The sights can be rather more interesting too - you'll enjoy exhilarating sea views and fresh air as you stroll on deck.


Looking for a cheap ferry to Amsterdam if so (click here) to visit our Ferry Amsterdam site.
Ferries to France
Looking for cheap Ferries to France. Ferries to France includes prices on all Ferry France journeys with all the leading operators including; Sea France, P&O France, Condor Ferries, Brittany Ferries & LD Lines. Ferries to France guarantees that you won't find cheaper anywhere else so why not take a look now and find the package that suits you best ! Visit our website now at www.ferriesfrance.org.uk
Ferries From UK To Spain & France
Portsmouth Port
Portsmouth a significant naval port for centuries and still the base for Nelsons HMS Victory remains the dockyard for the Royal Navy.As well as HMS Victory Portsmouth port is also home to many other famous ships. Portsmouth is the second busiest port in the UK, each year 3.5 million people travel from Portsmouth to Continental Europe. It has excellent road links from London via the M3 and A3. Whilst it may not have the quickest journey times to France and Spain, it gives the passenger a more relaxing enjoyable journey so traveling by Ferry to Bilbao can be agreat experience in its own right!.

Portsmouth itself is the Royal Navy's historical home, the port is just north of the navel base. There's plenty to do at the terminal building, a gift shop and newsagent, a licensed bar, a cafeteria, a bureau de change, a cash point, a baby changing room, payphones, photo booths and public fax machine. At the end of the boarding lanes is another "Travel Centre" which contains a cafeteria, bureau de change, and gift shops.
Santander
Santander of Northern Spain and the capital of the Cantabria province situated on the nearby peninsula of Magdalena is a truly beautiful spanish city which is fast becoming a major tourist attraction.

Santander is the capital of the Spanish region of Cantabria; a region known for its culture, beautiful beaches and stunning scenery. Santander's old quarter is still in existence, though little of it remains. Worth a visit are the Gothic temple and the nearby medieval town of Santillana del Mar.

There is plenty to do in Santander, including the Dunas Liencas Natural Park, the Museo Provincial de Prehistoria, the Royal Magdalena Palace and the Carbárceno Natural Park, which is the largest zoo in Europe. Santander also boasts award-winning beaches, extensive shopping facilities and a wide range of restaurants and bars.

Santander Ferry Port is located in the centre of the city, and is easily accessible by both car and public transport. The city has been built up around the natural port, which has been used since before the occupation of the Roman Empire. The port of Santander is on the Northern Coast of Spain, and provides links by road and rail to the rest of Spain and Portugal.
Spain
Travelling to Spain by sea is easy with P&O Ferries docking at the beautiful port of Bilbao in the Basque Country of Southern Spain.Why not book your cheap Ferry to Spain online today.If you'd like to travel to Spain by Ferry from the UK you have two routes and three operators to choose from which are listed below.

Brittany Ferries operate the Plymouth to Santander service twice a week, three times a week in high season. On-board the 'Pont Aven' accommodation is compulsory and ranges from a reclining seat to a deluxe cabin. The journey time is approximately 18 hours.

P&O Ferries operate a Portsmouth to Bilbao service every 3 days during peak season. The journey time on the luxurious 'Pride of Bilbao' is between 29 and 35 hours depending on conditions. Very popular service with mini cruisers. Prices include accommodation.

AT Ferries (Acciono Trasmediterranea) is a major Spanish ferry company offering services between Portsmouth and Bilbao on their superferry, the 'Fortuny'. It has a 1000 passenger capacity and can accommodate upto 330 cars, caravans and coaches. Very comfortable crossing with excellent onboard facilities.
Bilbao | Cheap ferry to Bilbao | Ferries to Bilbao | Ferry to Bilbao | P&O | P&O Ferries | Portsmouth | Portsmouth ferry to Bilbao | Santander | Spain